To celebrate World Chocolate Day TST are giving all employees a Fairtrade bar of Chocolate to support the distribution of our new Code of Conduct Brochure.  TST believe employee diversity is an asset to our business.  People of different age groups, from different backgrounds, genders and cultures, with a range of different experiences and capabilities, help us understand and serve our customers and reach our business objectives.
Turbine Surface Technologies (TST) recognises that its success depends on its recruitment and retention of people and encouraging them to reach their full potential.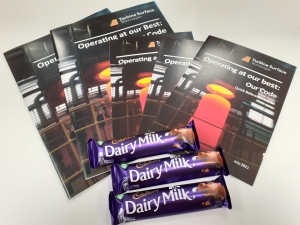 We recognise the need for our employees to possess the levels of skill and knowledge appropriate to the roles they perform in delivering the quality of service our clients expect. This approach and mutual respect create a culture of co-operation and achievement that underpins the high quality of the services we offer.
We want a truly inclusive organisation where our people can bring their whole selves to work.