Another first for Turbine Surface Technologies…….
Congratulations to Katarzyna Kobos who has become the first female NDT trained employee in Turbine Surface Technologies to achieve Level 2 NDT Certification.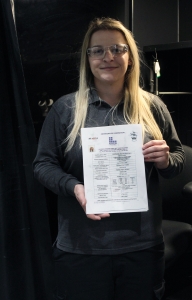 Attaining NDT Level 2 gives Katarzyna greater freedom and flexibility to perform NDT testing in the field, and a greater understanding of how to utilise the data from her chosen NDT method
A great achievement by Katarzyna who has now paved the path for other female employees to follow. Thank you to all the NDT team for their support.